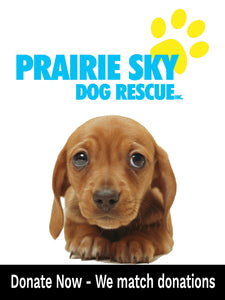 Donate 1lb to Prairie Sky Dog Rescue, we match every donation! The rescue will receive a donation of healthy natural Canadian pet food, together we can make a difference.
Note: We coordinate donations directly with the rescue as they request them, you will not receive this item.
Prairie Sky Dog Rescue Inc. focuses on rescuing, training, and re-homing dogs, providing them with the opportunity of a life. We are a non-profit organization based in southern Saskatchewan, Canada. 
Mission
Prairie Sky Dog Rescue Inc. is a 100% volunteer-based, non-profit organization based out of southern Saskatchewan, Canada. We rescue dogs of all types, from a variety of situations (including abandonment, neglect, surrenders), assess them, and place them in foster homes until we can find them permanent, loving homes that are a good fit for each individual. While dogs are in our care, they not only receive proper veterinary treatment, but we also work on training and dealing with any behavioural issues to make the transition into their adoptive homes as successful as possible. After dogs are adopted, we continue to work with the new families to provide support, if needed. In addition to rescuing dogs, our organization educates and advocates for a range of issues including pet overpopulation (the importance of spaying and neutering), breed discrimination, dog bite prevention, and animal welfare laws. Prairie Sky Dog Rescue Inc. is a passionate group of dog lovers and we hope to help dogs in any way we can!