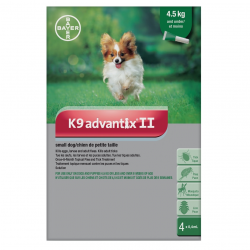 *Do NOT use on cats. Toxic to cats. Dogs should be separate from cats for 12 hours after application*
K9 Advantix II is a convenient monthly topical application that kills and repels fleas, ticks and mosquitoes, kills lice and repels biting flies. It's specially formulated for dogs with imidacloprid, permethrin and pyriproxyfen for broad-spectrum protection against these ectoparasites that can transmit diseases to your patients. And because it kills through contact, there's no biting required.
Concerns
Biting flies
Flea allergy dermatitis
Flea eggs
Flea larvae
Flea pupae
Fleas
Lice
Mosquitoes
Ticks
K9 Advantix II is available in four sizes: Small Dog, Medium Dog, Large Dog and Extra-large Dog. Monthly treatments are required for optimal control and prevention of fleas and ticks.
For dogs over 55 lbs., do not apply more than one tube per treatment. Do not use on puppies under 7 weeks of age or weighing less than 4 lbs
K9 Advantix II kills fleas on dogs within 12 hours of application. It kills re-infesting fleas from the surroundings within 2 hours and protects against further reinfestation for at least four weeks.
A single application of K9 Advantix II remains effective for four weeks. However, if the dog has a severe infestation, re-treatment within a month may be necessary; dogs should not be re-treated more than once every seven days. After flea control is attained, return to a monthly treatment schedule.
ACTIVE INGREDIENTS
8.8% imidacloprid, 44% permethrin and 0.44% pyriproxyfen