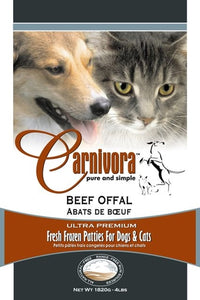 *Only ships to Saskatoon & Area - Perishable, ship at Customers Risk. Contact us to ship outside of Saskatoon for Bulk Options.*
Carnivora Beef Offal for dogs is a nutrient dense food with good amounts of all vitamins, as well as minerals such as copper, zinc, and essential fats. Raw food for dogs and cats made in Canada.
INGREDIENTS
Finely ground liver, heart, kidneys, tongue, spleen, lungs.
GUARANTEED ANALYSIS
Moisture 69.6%
Protein 16.2%
Sodium 0.11%
Phosphorus 0.19%
Potassium 0.21%
Calcium 0.01%
Magnesium 0.01%
Copper 7 ppm
Iron 79 ppm
Maganese 1 ppm
Zinc 22 ppm
Sulfur 0.145%
Ash 1.2%
Fat 11.1%
Fiber 0.4%