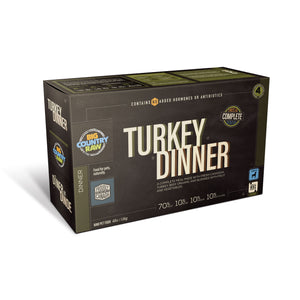 *Only ships to Saskatoon & Area - Perishable, ship at Customers Risk. Contact us to ship outside of Saskatoon for Bulk Options.*
*Special Order - May Take 2-4 Weeks to be Delivered*
A complete meal made with fresh Canadian Turkey (including bone, and beef organs) blended with fruit and vegetables.
Recipe Ratio
70% Muscle Meat,
10% Organ meat,
10% Ground Bone,
10% Fruit and Vegetables
A Big Country Raw favourite with meaty Ontario raised turkey, thats a rich source of pure meat protein and perfect for dogs with sensitivity to chicken!  Turkey is high in protein, making it an excellent choice for working and active breeds. With added organic fruits and vegetables that are packed with natural antioxidants and essential nutrients, this meal will soon be your dogs daily request!
Hormone & Antibiotic Free
Free-Range Turkey
SKU: 627818000079
Product Code: TD4C