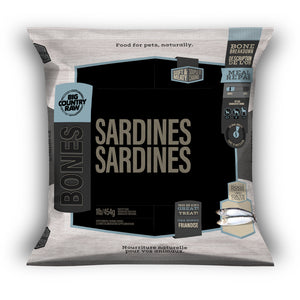 *Only ships to Saskatoon & Area - Perishable, ship at Customers Risk. Contact us to ship outside of Saskatoon for Bulk Options.*
Sardines are small silvery fish offering firm flesh and robust rich flavour. Great for all pets and all breeds!  An excellent source of naturally occurring Omega3s and vitamin D.  Make Sardines are part of your regular meal plan for a shiny, soft and healthy skin and coat.

1 LB Bag
These tiny fish have a great taste with just a little bit of crunch. Wild caught in Canada, this treat is ideal for pets with food sensitivities. A rich source of Omega-3 fatty acids, whole sardines provides a nutritious treat or meal topper for your dog or cat! Individually Quick Frozen in 1 lb. portions makes this an easy way to add 1, 2 or 3 to every meal! You can also offer as a nutritious treat, or dehydrate for an on-the go treat your dog or cat will love!
Frozen Canadian Sardines
Freshly frozen - these small fish have no strong smell!
Neutral/Cool Protein
SKU:627818003322
Product Code: SAR1