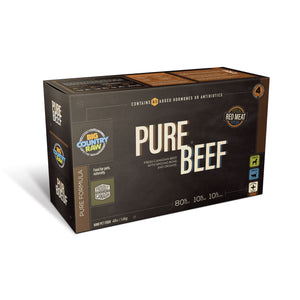 *Only ships to Saskatoon & Area - Perishable, ship at Customers Risk. Contact us to ship outside of Saskatoon for Bulk Options.*
*Special Order - May Take 2-4 Weeks to be Delivered*
A perfect blend of fresh Canadian beef with ground bone and organs.
Recipe Ratio:
80% Muscle Meat
10% Organ Meat
10% Ground Bone
The best raw Pure Beef available! Only Canadian Hormone & Antibiotic Pasture-Raised Beef and our #2 best selling menu choice.
This meal contains just meat, bone and organ meat with no fruit and vegetables or various greens.  Perfect for DIY raw feeders looking for a great beef base for their raw meals.  An excellent meal choice for cats that love the taste of rich and juicy red meats!
Hormone & Antibiotic Free
Pasture-Raised Canadian Beef
SKU: 627818000093
Product Code: PB4C